The Disney Magic offers various itineraries, mainly sailing to the Caribbean, but the Magic will also head off to ports in the Bahamas, Canada, New York, and Europe!
OVERVIEW / PLANNING TOOLS
The grand atrium lobby is the first thing guests see when they enter the Disney Magic and it truly sets an impressive scene. The lobby has been designed with an art deco motif and features colors of the sea, such as coral, blue, and aquamarine. The carpet features a seashell design. If guests look up, they will notice that the chandelier is meant to act as the sun in this space, and golden yellow rays stretch across the ceiling. The "Helmsman Mickey" statue stands at the bottom of the grand staircase, waiting to greet guests to their vacations.
Disney Magic Ship Details:
Birthplace: Fincantieri – Marghera, Italy
Maiden Voyage: July 30, 1998
Passenger Capacity: 2,713 | Gross Tonnage: 84,000 tons
Number of Staterooms: 875
Length: 984 feet | Beam: 106 feet | Height: 171.5 feet
Cruising Speed: 23 knots
PHOTO GALLERIES
DISNEY MAGIC STATEROOMS
These staterooms are designed especially for the needs of families. The Disney Magic's staterooms are well-appointed, comfortable, and awash in nautical elegance. Most of the staterooms boast split bathrooms,a feature that's perfect for families & and a cruise line industry first!
Popular features from the other ships are also available, like private verandahs, portholes with built-in seating, and elegant decor.
DISNEY MAGIC RESTAURANTS
Restaurants on the Magic include:
RAPUNZEL'S ROYAL TABLE
Rapunzel's Royal Table, the newest restaurant on the Disney Magic, takes you inside the ballroom of the royal castle during the celebration of Rapunzel's birthday. During dinner, you'll be entertained by the Snuggly Duckling Thugs and even encounter Princess Rapunzel herself.
LUMIERE'S
Enjoy elegant family dining at Lumiere's. As the name suggests, the restaurant's theme is inspired by Disney's Beauty and the Beast and the menu has a French influence.
ANIMATOR'S PALATE
Animator's Palate features high-def flat screens and animation decorating the walls. The popular Animation Magic show is offered here, giving each guest the chance to become an artist. This is an experience you don't want to miss!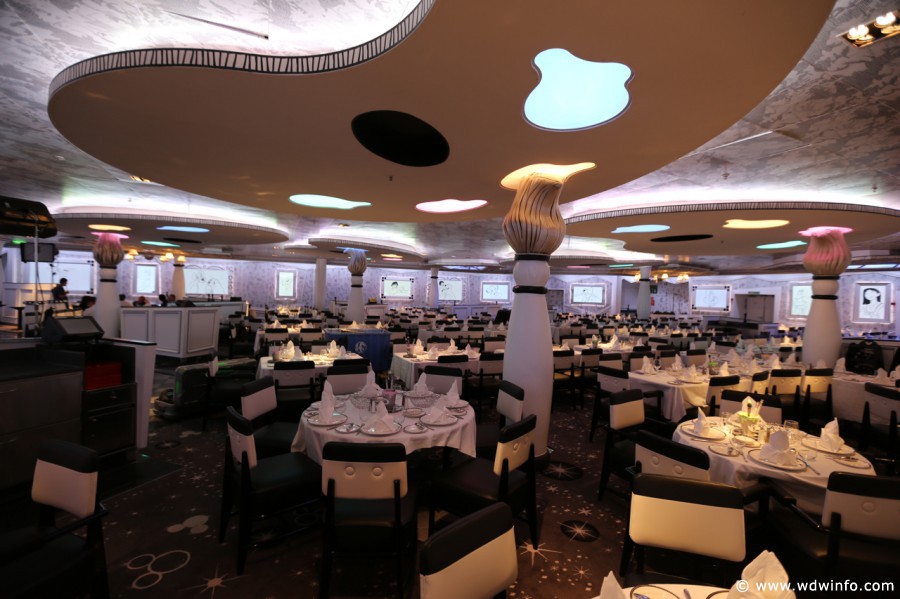 CABANAS
Cabanas is a casual restaurant that serves fresh food favorites. You have the option of eating indoors or outdoors on the pool deck. Cabanas is a buffet that serves a few made-to-order food choices for breakfast and lunch. The restaurant becomes a table-service dining room serving specialties from the main dining rooms at dinner. Cabanas is most easily accessible from the Aft elevators. The restaurant is themed around Finding Nemo. The restaurant space offers 9,460 square feet of space and 455 seats.
PALO
Palo, the adults-only dining location, is reminiscent of a cafe in Venice. Glass artwork, stone floors, and red and white striped poles give the restaurant the illusion of being situated on the canals of the Italian city.
DISNEY MAGIC ENTERTAINMENT
Entertainment aboard the Disney Magic is offered in fantastic settings, and all options are designed to fill your days at sea with memorable experiences. Guests can watch stage shows in the beautiful Walt Disney Theatre, and first-run movies in the Buena Vista Theatre, and take part in character meet and greets across the ship.
Guests can join the fantastical family Madrigal during an all-new immersive experience, "An Encanto Celebration," designed to engage families through music, crafts and storytelling. The interactive experience gives guests an opportunity to meet and take photos with Mirabel and the family member we don't talk about, Bruno, during their Disney Cruise Line debut. Families can also join a spirited sing-along of beloved Encanto songs and create butterfly and flower crafts inspired by the film. During the show, guests can experience a true taste of South America thanks to a selection of local Colombian beers, cocktails and sodas along with film-inspired mocktails.
Adults Only:
Nightclubs & Lounges on the Disney Magic bring the night to life with music, dancing and socializing. From swanky to sporty, low key to high energy, you'll find a hangout you'll love amid the ship's "adults-only at night" entertainment district, After Hours.
The clubs in this location are Soul Cat Lounge, O'Gill's Pub, Fathoms (an undersea-themed club that changes the atmosphere as the night goes on), and Keys, a laid-back piano bar.
The heartfelt story of Soul was the inspiration for the brand-new Soul Cat Lounge designed to look like Joe Gardner's favorite music spot from the film, the Half Note Lounge. The space, located on deck three near Rapunzel's Royal Table restaurant, instantly transports guests to a classic New York jazz club appointed with decorative details like brick walls, wood accents and plenty of rich leather seating around a stage set for live music so that guests can grab their partner and head to the dance floor for a swinging good time each evening.
The Soul Cat Lounge is adorned with custom artwork from Pixar featuring nods to the film, including record labels, concert posters, and portraits of jazz legend Dorothea Williams and her bandmates. Thoughtful Soul-inspired details are subtly layered throughout the design, including record players, instruments and Joe's hat.
Adults can enhance their big city experience with table-side Manhattans and martinis or choose from a selection of native brews and cocktails made with New York spirits. A fun collection of mocktails, specialty coffees, and sodas are also on the menu. In addition to new drink options, guests can take a bite of Little Italy with an order of zeppoles, the classic Italian pastry similar to a fried doughnut, while enjoying the live music.
O'Gills Pub will have guests (especially those from Ireland) feeling at home. This handsome pub is adorned with dark woods, brass accents, and 4-leaf clovers, covered in shades of green, and is a tribute to traditional Irish street-corner pubs.
Guests can immerse themselves at Fathoms after dark, where mingling, singing, enjoying cocktails, and dancing are on the agenda. Patrons can also grab a microphone for karaoke, enter a game show, catch a comedy show, or watch a live musical group perform on stage.
Keys is an intimate piano bar that recalls the celebrated Golden Age of Hollywood when low-lit watering holes and swanky lounges graced Tinseltown's famed Sunset Boulevard. Boasting chestnut-colored wood walls, retro-inspired plush armchairs, large porthole windows, and an illuminated bar, the nightclub provides an upscale, romantic atmosphere for adults and couples looking to play it by ear amid a more mellow setting.
Senses Spa & Salon sports a contemporary design and offers various services. Smile Spa offers teeth whitening services and barbershop services for men, and the Chill Spa caters specifically to teens ages 13 to 17.
For the Whole Family:
D Lounge is the hangout for games, dance parties and family-friendly activities.
Kids Clubs:
Based on the theme park attraction, the "it's a small world" nursery is the perfect place for your little ones to play while you enjoy a grownups' night out.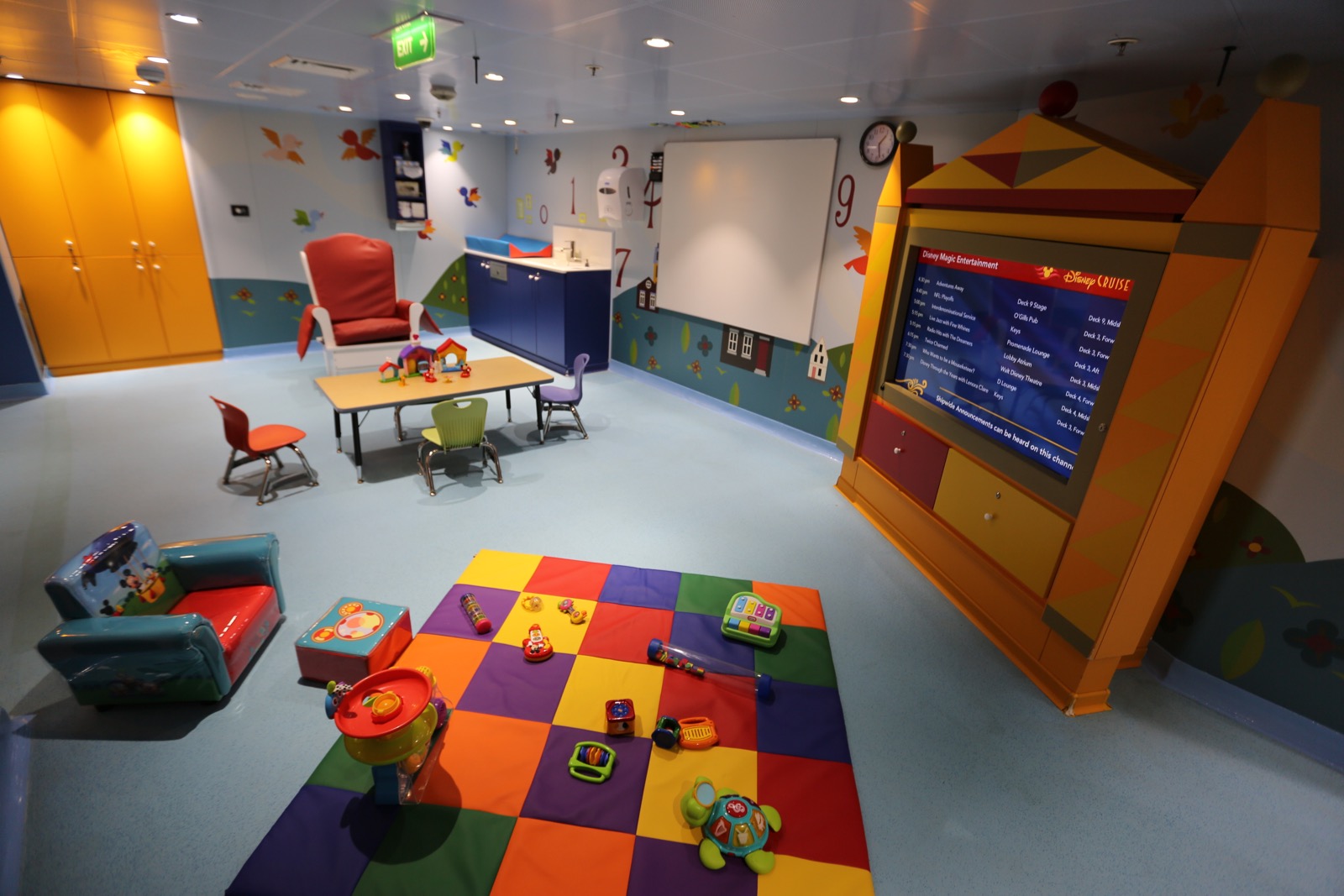 The Oceaneer Club, one of the areas for children aged 3-12, is home to Disney's Pixie Hollow, Andy's Room from Toy Story, and more.
In the Marvel's Avengers Academy, children will be in charge of a command post directing the Avengers' secret missions and training.
The Mickey Mouse Club is decorated in red, yellow and black. Kids will make crafts, play games, and test out Goofy's Gears, an oversized activity center with magnetic, spinning gears to play with.
The Oceaneer Lab, which is also for kids age 3-12, has a pirate-themed area. Kids use Navigator Simulators to steer a pirate ship through the Caribbean.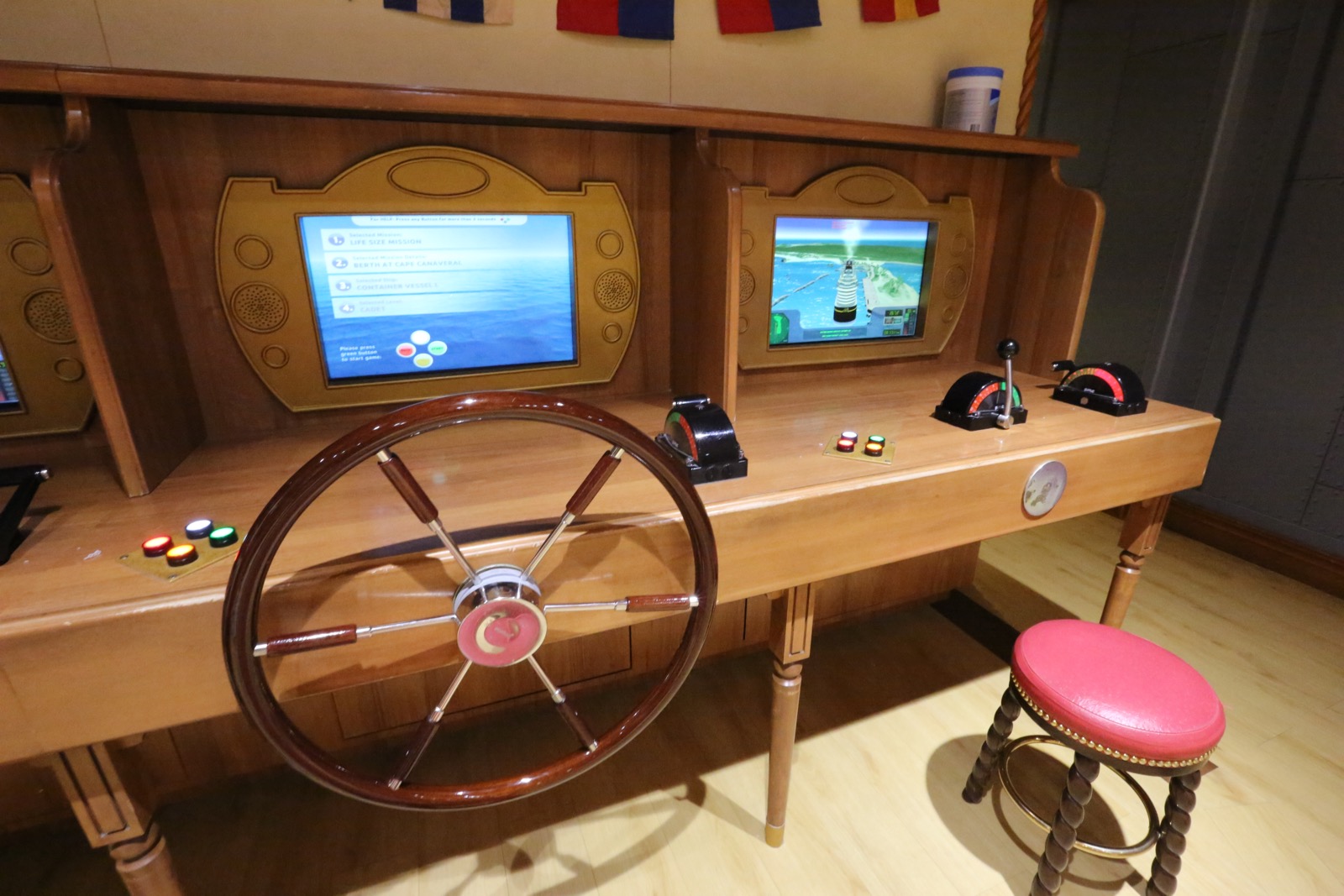 Edge is an interactive space for tweens ages 11-14 and was designed to look like a replica of the ship's bridge. High-tech gaming stations, a dance floor, TV, arts and crafts, karaoke, and scavenger hunts will keep them busy for hours.
Vibe is the teens' hangout is on Deck 11, midship. The room is designed with cozy chairs, couches, a dance floor, flat screen TVs, and a smoothie bar. Video games, board games and DVDs are available in this area where teens can hang out and get to know each other.
DISNEY MAGIC RECREATION
Bibbidi Bobbidi Boutique
Kids ages 3-12 can visit Deck 10 for a Princess or Royal Knight makeover (Pirate makeovers will be available for all ages on Pirate Night).
Pools and Water Features:
With the most recent updates to the Disney Magic, interactive features were added to the pool deck. Waterplay features similar to the Fantasy's AquaLab were added to the 1,800-square-foot space. Kids can jump around the pop jets, geysers, and bubblers. The infants/toddlers splash area was re-themed around Huey, Dewey, and Louie; Donald Duck's nephews. The Twist N' Spout water slide sends guests twisting back and forth across the ship in 250 feet of twists and turns. This slide is for guests between 38 and 64 inches tall.
The AquaDunk is a three-story body slide. Riders step inside a clear tube, and the floor under them opens like a trap door, sending them on a near-vertical drop that will eventually take them 20 feet over the ship's side. This slide is for guests 48 inches or taller.