The Disney Fantasy mainly sails out of Port Canaveral, FL on the popular seven-night Caribbean itineraries – alternating Eastern and Western – including a stop at Disney's private island in the Bahamas, Castaway Cay.
The Disney Fantasy is the fourth ship in the Disney Cruise Line fleet and sailed her maiden voyage on March 31, 2012. A sister ship to the Disney Dream, the Disney Fantasy features an AquaDuck water coaster, magical children's areas, world-class entertainment, delightful dining, retreats for adults, and immersive experiences for guests of all ages with beloved Disney stories and characters. This massive ship features 14 decks and has 1,250 staterooms. As guests have come to expect from Disney Cruise Line, the newest ship combines state-of-the-art technology with the elegance and grandeur of old-time ocean liners. Every Disney Cruise Line ship has a signature character; the Fantasy is no different. The ship's atrium is home to a bronze statue of Mademoiselle Minnie Mouse. Keeping in line with the vintage travel theme seen around the ship, Minnie is dressed in fashions from the 1920s and 30s, complete with a parasol and steamer trunk.
Disney Fantasy Ship Details:
Birthplace: Meyer Werft – Papenburg, Germany
Maiden Voyage: March 31, 2012
Passenger Capacity: 4,000 | Gross Tonnage: 130,000 tons
Number of Staterooms: 1,250
Length: 1,115 feet | Beam: 121 feet | Height: 216 feet
PHOTO GALLERIES
Take a look at our Disney Fantasy photo galleries, including the dining locations, recreation areas, common areas, kids' clubs, and adult areas!
DISNEY FANTASY STATEROOMS
The staterooms on the Disney Fantasy are designed especially for the needs of families. A popular feature for inside staterooms is the virtual portholes. These high-definition "portholes" have a 24-hour view of the ocean brought to you by a Hi-Def camera mounted outside the ship. Look closely – you may even see some of your favorite Disney characters float by!
Popular features from the classic ships are also available, like private verandahs, portholes with built-in seating, and elegant Art Deco decor.
DISNEY FANTASY RESTAURANTS
Restaurants on the Disney Fantasy include:
Animators Palate (Main Dining)
Enchanted Garden (Main Dining)
Royal Court (Main Dining)
Palo (Signature Dining, adults only)
Remy (Signature Dining, adults only)
Cabanas (Quick Service / Table Service)
Flo's Café (Quick Service)
Frozone Treats (Quick Service)
Eye Scream (Quick Service)
Sweet on You (Ice Cream & other sweet treats)
ANIMATOR'S PALATE
The popular Animator's Palate restaurant is on this ship as well, but a new twist has been added. An interactive dinner show called Animation Magic involves the guests in the animation shown during the meal. Guests are invited to draw characters in a template on their placemats when they first come into the restaurant; servers will collect the completed drawings, which later show up as animation on screens around the room. The guests' names are shown in the credits and you will receive your drawings back with a special animator's stamp added. The show uses special Disney-created software to bring the drawings to life, along with a brand-new musical score and never-before-scenes from Disney films.

In addition to Animation Magic, Undersea Magic will also be shown on one of the other nights. Undersea Magic features Crush from Finding Nemo. Crush swims around the room on screens, interacting with diners and discussing his world under the sea.
ROYAL COURT
This restaurant serves French-inspired, continental cuisine and is inspired by the classic Disney films Cinderella, Snow White and the Seven Dwarfs, Beauty and the Beast, and Sleeping Beauty. Designed to look like a palace, some of the features include a whimsical chandelier, lighting fixtures made to look like Cinderella's Carriage, mosaic tile murals of the princesses, and hidden images of glass slippers, apples, roses, and tiaras.
ENCHANTED GARDEN
Enchanted Garden serves breakfast, lunch, and dinner as the main dining restaurant. During the daytime meals, the ceiling is a bright blue sky. For the evening meal, the Enchanted Garden transforms itself from day to night with a starry sky full of constellations. The decor is made to feel like you are eating in the famous gardens of Versailles, France. You are surrounded by white trellises, arches, and landscape artwork. Lighting becomes part of the artwork, with the fixtures designed like glass flowers and light posts lining the center aisle. The glass flowers "bloom" at night and become colorful, as the rest of the gardens open as well. The centerpiece is a seven-foot-tall fountain with a Mickey Mouse statue in the center.
CABANAS
Cabanas is a Casual Dining restaurant that serves fresh food favorites. You have the option of eating indoors or outdoors on the pool deck. Cabanas is a buffet that also serves a few made-to-order food choices for breakfast and lunch. Cabanas is most easily accessible from the Aft elevators.
DISNEY FANTASY ENTERTAINMENT
Entertainment aboard the Disney Fantasy is offered in unique settings, and all options are designed to fill your days at sea with memorable experiences. Guests can watch stage shows in the beautiful Walt Disney Theatre, first-run movies in the Buena Vista Theatre, and take part in character meet and greet across the ship.
Adults Only
Nightclubs and lounges on the Disney Fantasy bring the night to life with music, dancing, and socializing. From swanky to sporty, low key to high energy, you'll find a hangout you'll love amid the ship's "adults-only at night" entertainment area, Europa.
Europa is the nighttime entertainment district on the Fantasy, located on Deck 4, Aft. Exclusively for guests aged 18 and up, Europa is the place to be in the evening, offering guests the chance to "travel" through the clubs and lounges of Europe!
One night during each cruise, guests will experience an international street party – "Viva Europa!" Singers, dancers, and interactive performers will move through the 5 clubs, bringing the entertainment to a whole new level.
La Piazza is a lounge inspired by the cities of Italy and their famous outdoor plazas. The bar here takes center stage – modeled after a vintage carousel and surrounded by colorful Venetian masks. A Vespa (complete with sidecar) and intimate booths add to the feeling that you're spending a romantic evening in Italy. La Piazza serves Italian favorites like sparkling Prosecco, Moretti Peroni beer, red and white wines, grappa, and limoncello.
O'Gill's Pub features classic Irish neighborhood pub decor and dark wood accented in brass. This is the place to be when the game's on – HD TVs will be broadcasting live sporting events. O'Gills serves up Irish classics but with a Fantasy twist – their own private-label Irish Cream and vintage Irish whisky.
Ooh La La, the ship's champagne bar, will remind guests of a French boudoir, complete with Victorian furniture, velvet-tufted walls, and mirrors. The bar, designed to look like a sparkling jewelry box, serves Fantasy's private label – Ooh La La Champagne by Taittinger.
The Tube dance club is like stepping into the London transportation system. Floors are covered with route maps, Big Ben inspires the bar, and a photo op with one of four red English phone booths. The illuminated dance floor features a Union Jack flag. The Tube offers two live shows for their guests. "Pop!" will test guests' trivia knowledge about pop culture and "London Rocks!" brings English rock and roll to life with dancers, singers, and audience participation. Drinks served here include 1863 (the year London's Tube opened) with vanilla vodka and Imperial English Breakfast Tea.
Skyline has a chic penthouse feel and offers panoramic views of European skylines as they transform from day to night. From your seat, take in the views of St. Petersburg, Russia; Athens, Greece; Florence, Italy; Budapest, Hungary; Paris; London, and Barcelona. As the skyline changes, so do the music, the art, and the menu! Signature cocktails, inspired by the city of the day, are offered here. Because of its popularity in the Dream, Skyline on the Fantasy is one-third bigger than its predecessor.
Meridian Bar is located on Deck 12 located between Palo and Remy. Enjoy a pre or post-dinner cocktail in this adults-only bar. The decor is inspired by the golden age of sea travel. A sextant navigational tool is embedded on the floor, the booths are decorated with buckles like old luggage and the walls are covered with leather maps and passport stamps.
Senses Spa & Salon sports a contemporary design and offers a variety of services. The Rejuvenation Spa offers an array of cosmetic body and facial treatments.
For the Whole Family
Like the other ships in the fleet, Disney Fantasy offers Broadway-style stage shows at night. Two new shows are being performed. Disney's Aladdin: A Musical Spectacular is a musical comedy with many of the classic scenes and songs from the film that used to be presented in the Hyperion Theatre at Disney California Adventure Park. At times, performers will be in the aisles of the theater, making guests feel like they're a part of the show. A new song, To Be Free, is included and was written for the show by Alan Menken, who composed the original score. In addition to the two new shows, other productions offered are a Welcome Aboard show, Disney's Believe, and Frozen – A Musical Spectacular.
The D Lounge is the ship's main hangout for games, dance parties, live entertainment, and family-friendly activities.
Kids Clubs
The "it's a small world" group babysitting center is designed for little ones from 6 months to 3 years of age. This is the only option open to parents of the little ones as there is no in-room babysitting service on the ship. Unlike the planned programs for older children, the nursery has a charge per hour with a minimum of 1 hour. For additional children in the same family, the charge is a little less per hour. Cancellations can be made without penalty 4 hours in advance.
Character meet-and-greets, storytelling sessions, dress-up opportunities, cool interactive games, and larger-than-life playgrounds are sure to inspire kids 3 to 12 years of age at the Oceaneer Club activity center that's inhabited by classic Disney, Marvel, and Disney·Pixar characters.
Imagination rules at the Oceaneer Lab that is dedicated to exploration, where children ages 3 to 12 years of age are invited to play inventive games, perform wacky experiments and participate in all kinds of educational activities amid distinctly themed rooms.
DISNEY FANTASY RECREATION
AquaDuck
Just like on the Disney Dream, the AquaDuck water coaster on the Disney Fantasy features 250 yards of transparent tubing that sends you twisting and turning over the top decks and out over the sea. This coaster is 765 feet long and features a 4 deck drop. Riders must be 42″ tall to ride with someone else, 54″ to ride alone. If a rider is under 7 years old, they must ride with someone 14 years of age or older.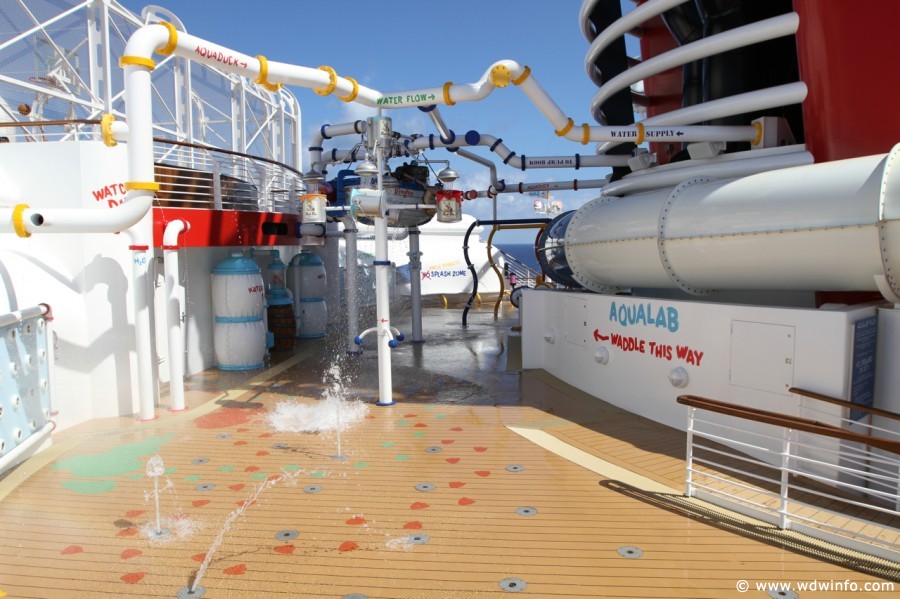 The 1,800-square-foot AquaLab water play area on Deck 12 is filled with water pop jets, geysers, and bubblers, perfect to keep the whole family cool. Just as Disney does with all their attractions, there is a story as to how the AquaLab came to be. Huey, Dewey, and Louie, Donald Duck's nephews, created the AquaLab, but it's up to young cruisers to operate the AquaLab to keep the AquaDuck up and running for the other guests! At three different stations, there are wheels to turn and levers to pull, "controlling" the speed and temperature of the AquaDuck water coaster. One leaky wall invites kids to cover squirting holes and pipes, soaking themselves in the process. The Ducky Dinghy leaks water from overhead.
AquaLab isn't the only new water feature to be found on Disney Fantasy. On Deck 12 Forward, a canopy shades a fountain surrounded by plenty of lounge chairs for relaxing near the water. Satellite Falls, an adults-only area on Deck 13 Forward, includes a circular splash pool with benches and a cascading rain curtain.
Bibbidi Bobbidi Boutique
Themed "dress-up nights" have always been popular on Disney cruise ships, so Disney Cruise Line is making things a little easier for guests on the Fantasy. The Bibbidi Bobbidi Boutique is available for makeovers, including hair, makeup, nails, and costumes. Exclusive Disney Cruise Line packages are available, allowing guests to transform into Captain Mickey Mouse, Princess Minnie Mouse, and First Mate Minnie Mouse. For the pirate nights, the Boutique becomes the Pirate's League, offering such pirate garb as makeup, swords, earrings, and eye patches. A cancellation fee will be applied for no-shows or for failure to cancel 24 hours before the appointment.
The Fitness Center onboard the Disney Fantasy is located on Deck 11/Forward and is a full-service facility that hosts aerobic, yoga, and Pilates classes, as well as health seminars. Weight machines, ellipticals, and personal trainers ($89 for a 60 min session) will keep you in great shape while on vacation! The 2,500-square-foot fitness center is open to guests ages 18 and older from 6:00 am – 8:00 pm, except on days when the ship is docked.